Nonkizushi
Nonkizushi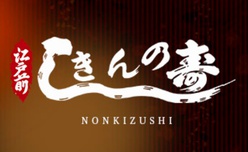 Company Information
| | |
| --- | --- |
| Hours of Operation | Thusday to Tuesday: Lunch: 11:30am ~ 2:00pm // Dinner: 4:30pm ~ 10:00pm * Closed: Wednesdays |
Company Introduction
Nonki Sushi is a long-established sushi restaurant located about a 5-minute walk from Minami-Itou Station in Miyagawa-cho , Ito City . Focusing on fresh seafood caught in the sea near Ito, we offer sushi and snacks in the most delicious way of eating that season.
℘
The menu that can only be enjoyed at our restaurant is also very popular, using the highest quality Izu's "Matsuma Wasabi", which has been featured on various media such as TV. Besides sushi and seafood bowl , sashimi, fried food, and simmered food. In winter, we recommend the Kinmedai Chirinabe and the locally caught Anko Nabe. Please feel free to contact us regarding your budget.
℘
Whether you are a beginner or a regular customer, please stop by and enjoy the taste of our restaurant when you come to Ito / Minami-Ito.
Company Services
Offering fresh local fish dishes
We make full use of fresh local fish caught in the sea near the local Ito, and offer our customers not only sushi but also a variety of dishes such as sashimi, steamed food and hot pot.
℘
Nonki Sushi welcomes inquiries and reservations from customers. Please feel free to contact us for banquet reservations and budgets.
Please feel free to contact us using the form below.