Elije
Elije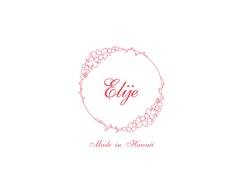 Company Information
| | |
| --- | --- |
| Hours of Operation | Monday to Sunday: 8:00am-6:00pm |
Company Introduction
Model/Hawaiian Express host Julie Lejeune and designer Erika Kamei created Elije in the summer of 2011in Hawaii.

Elije's concept is SIMPLE IS BEST. We don't believe in bulky accessories because we feel that it detracts from your natural beauty.

We prefer to use simplicity in our jewelry in order to accentuate and complement your beauty and not cover it.

Inspired by the beautiful Hawaiian islands, Julie and Erika use Hawaiian corals, shells, and semi-precious stones to create their collections: Everything is designed and made in Hawaii with a touch of Hawaiian Mana.

Elije designs are elegant, fine, and delicate, yet they always stand out.
Company Services
Resort Jewelry
℘
bracelets ℘ ankelets ℘ bangles
℘
custom-order

1. Email us at shopelijehi@gmail.com to make an appointment.
2. Choose designs from our collection.
3. Choose corals, shells, and stones.
Price changes according to corals, shells, and stones.
℘
Online Shop available
Inquiries? Please contact us! shopelijehi@gmail.com