Atelier & Hostel Nigisa Ura
Atelier & Hostel Nigisa Ura
Atelier & Hostel Nigisa Ura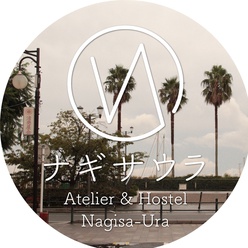 Company Information
| | |
| --- | --- |
| Hours of Operation | Check-in: 3:30pm ~ 8:30pm // Check-out: 8:30am ~ 10:00am |
Company Introduction
Nagisaura is a hostel with four private rooms renovated from a 70-year-old disposable chopsticks shop on the seafront of Atami.
Based on the concept of "Dig Trip / Journey into Atami and I", we have prepared guides and tips for exploring Atami on your own, and rooms where you can spend a calm time.
We recommend that you use a small group of people to enjoy the quiet life of Atami on the beach just a little away from the city.
It is a small accommodation facility renovated from a chopstick shop on the seaside of Atami. A shopkeeper who arrived in Atami while working as a writer of contemporary art said, "I want to make a setting with people who make fish." We started operation of this place with the desire to "draw a [uniform] of living". Since the old building was remodeled with a lot of modifications, there may be some points that could not be achieved as equipment. However, we are looking forward to your arrival with interesting information on Atami collected from old buildings and old connections.
A small cottage with 4 rooms and 9 people renovated a chopsticks shop and a small atelier with a renovated warehouse. Thank you very much.
Company Services
℘
《Rooms》
Cable LAN・Air-conditioning
℘
《Common Areas》
Bath room with bathtub(×1)・Shower room(×1)・Toilet(×1)・Wash stand(×2)・Shampoo & conditioner・Body soaps・Hair dryer(×2)・Microwave oven(×1) ・Refrigerator(×1)・Electric kettle(×1)
℘
Meal
We do not provide meals, but we will introduce many restaurants unique to Atami where local people gather.
Come deep Atami atmosphere.
* Food and drinks can be brought into the common area, but meals in the room are prohibited.
℘