Aloha Steak House
Aloha Steak House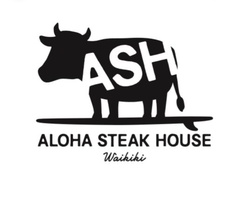 Company Information
| | |
| --- | --- |
| Hours of Operation | Everyday 5:00pm ~ 10:00pm (last call 9:00pm) * Tuesdays: Closed |
Company Introduction
Located in the heart of Honolulu, HI, Aloha Steak House offers savory and delicious steak, shrimp, seafood and classic Hawaiian dishes that are mouthwatering and affordably priced.
℘
Whether you're an island native or just visiting the region, we'll ensure you feel the ohana of the island while you dine freshly prepared cuisine, desserts, and beverages. From delicious dinner entrees to lunch specials, there's always a tasty bite at Aloha Steak House.
℘
Company Services
Savory lunch dishes from the land and sea
Are you looking for an authentic pupu platter or some freshly prepared poke? We have light and filling lunch dishes and combo platters that offer the very best Hawaii has to offer. We also carry a wide range of poultry, salads, seafood and signature steaks that are cooked to perfection. All of our dishes come in a wide variety of flavors, and we can specially prepare any dish you'd like or accommodate any special request.
℘
We offer an excellent selection of sandwiches, steak, seafood, and poultry dishes that are light, filling and just the ticket for a relaxed luncheon with friends or family. We can specially prepare any one of our signature dishes to your tastes, and our servers will ensure you feel at home. Experience the sights, smells, and flavor of Hawaii, when you visit Aloha Steak House today.
Enjoy the ohana of Hawaii when you visit the Aloha Steak House. Our signature venue caters to all tastes by offering both savory steak cuts and traditional Hawaiian fare that's freshly prepared. From Lomi Salmon to Poke and the delicious beef eye steaks, we have the dishes you'll love.
℘
Delicious dinner specials you'll love
When you want to enjoy a fun and spicy night out, look no further than Aloha Steak House. We cater to all tastes with a vast menu of freshly sourced and prepared beef eye steaks, shrimp, seafood, salads and desserts your taste-buds will love. We also carry island cuisine and a selection of specially procured local and imported wines, spirits, and beer. Enjoy a luxury dining experience for a reasonable price when you visit Aloha Steak House tonight.
We source all of our rib eye steaks from local ranchers with a reputation for providing quality products. Our steaks are flavorful, juicy and seasoned to perfection to ensure you love every bite. We also offer a wide array of seafood, poultry, salads, sandwiches, and dessert to complete your meal. Feel free to call us if you have any questions or you'd like to reserve a table.
℘
Whether you want a full-bodied red wine, rose or white wine to pair with your seafood, poultry or steak dish, we offer the finest wines in the region. Both local and imported selections that offer delicious flavors are available. We also provide local Hawaiian mixed drink favorites, beers, and sodas your family will love.